Martinsburg Enviro-Tech® Pest Services: Protecting Your World, Preserving Our Planet
Pest Control in Martinsburg, WV
West Virginia Exterminator
When pests invade your yard or home or business, you need fast, reliable service. Enviro-Tech® Pest Services is here to help. Since opening our doors in 1985, we have been committed to delivering the highest quality wildlife and pest control services in Martinsburg. We understand how overwhelming a pest infestation can be, which is why we are here to take care of it for you. In our decades of service experience, we have encountered and resolved every type of pest problem imaginable and guarantee we have a solution for yours.
We Can Handle Any Kind of Infestation in Martinsburg, Including:
---
If you are looking for professional pest extermination services in Martinsburg, VA that truly work, you can count on our exterminating team at Envirotech Pest Services. We offer residential services, commercial services, heat treatments, community treatments, and real estate services. No pest problem is either too big or too small for us to take care of. Take a look at our customer reviews and see why we are the most trusted pest control company!
Call (800) 836-3089 or contact us online to request an estimate for pest control in Martinsburg, WV.
Termite Inspection Martinsburg, WV
There are three main categories of termites.
Types of Termites:
---
Dampwood termites
Subterranean termites
Drywood termites
How to Tell if You Have Termites
If you notice any of the signs above in your home, our Martinsburg termite control experts encourage you to schedule a termite inspection as soon as possible. Leaving a termite infestation unnoticed can lead to costly damages and replacements that may be avoided with timely termite control services.
Signs of a Termite Infestation Include the Following:
---
Termite swarmers (may be confused with flying ants
Doors and windows that feel tight to open
Quiet tapping sounds coming from behind your walls (also known as termite "headbanging)
Mud tunnels on your property
Discarded termite wings
Exterior wood damage
Hollowed out wood
Wallpaper or wall paint that looks damaged, or peeling
Termite droppings (also referred to as "frass")
Creaky sounding floors
Our Termite Treatment Solutions
We have a number of great termite control solutions for you to choose from in Martinsburg, that may be tailored to fit your preferences.
The Termite Treatment Services That We Offer at Enviro-Tech® Include the Following:
---
PrevenTech™ Integrated Termite Service (ITS) - This termite control solution consists of two or more termite control techniques that are used to obtain full control of the termite infestation. It includes the use of monitors, baits, liquid termiticide, termiticide foam, and borates. It may require exterior as well as interior termite treatments, depending on your particular situation.
Sentricon® Always Active - This termite control treatment consists of a baiting program that is designed to efficiently target and eliminate termite colonies. It is the less invasive treatment option, and has a 98% rate of effectiveness.
PrevenTech™ Barrier Treatments (B) - This termite treatment is less harmful to the environment, with minimal to no health concerns associated. It has a 98% rate of effectiveness and utilizes a non-repellent barrier that is created around your property.
Pre-Construction Termite Treatments - Our team of Martinsburg exterminators here at Enviro-Tech® Pest Services can help you eliminate termites in your home or business, regardless of the stage that your project is in. We can help exterminate termites both before and after construction has been completed, by utilizing barrier, borate, and Sentricon treatments.
Heat Treatments - At Enviro-Tech® Pest Services, our team of pest exterminators in Martinsburg, West Virginia also use whole-structure heat treatments, that have been proven to effectively eliminate drywood termites. This process is non-chemical and only lasts only 33 minutes at most.
How to Prevent a Pest Infestation
We know the very last thing anyone wants is to discover that their home or business has been infested by rodents, insects, and other pests. Pests are very determined creatures who can easily make their way into just about any home or business. However, luckily, there are a few things you can do to significantly reduce your chances of an infestation.
To Prevent an Infestation in Your Home or Business, You Should:
---
Always clean up spills right away
Seal cracks and holes in your foundation with caulk
Repair any holes in window or door screens
Store all food in airtight containers
Avoid leaving pet food out
Clear away any areas of clutter in your home or business
Regularly vacuum your floors
Avoid overwatering your indoor plants
Schedule routine pest control
Enlisting the help of our Martinsburg pest control experts is just about the easiest and most effective way to prevent an infestation. Our specialists are skilled in identifying and resolving key problem areas on your property that can attract pests. We know exactly which areas to apply our professional-grade products to discourage pest activity and keep your home or business protected.
Martinsburg Wildlife Control
When you give us a call, we will be there in no time to thoroughly inspect your property, assess the situation, explain your options to you, and implement the best possible solution.
We Provide Wildlife Control in Martinsburg for the Following, and More:
---
Do You Need Wildlife Removal?
Do you suspect you have a wildlife infestation in Martinsburg, WV? These infestations can be more difficult to identify because many wild animals are experts at avoiding human contact. However, there are a few signs you can look out for to help you identify an infestation.
You Should Schedule Martinsburg Wildlife Control If:
---
There are a ton of holes in your garden
Your trash cans keep getting rifled through
Your fruit and vegetable garden has been destroyed
There are droppings and urine stains in your attic, underneath your deck, on your patio, in your yard, or anywhere else inside of or near your home or business
You can hear rustling, growling, squeaking, or scurrying sounds in your attic
There are signs of damage in your attics such as chewed-up insulation, wooden beams, or wires
Your shingles are damaged
Your lights are flickering
Eco-Conscious Termite Services
As one of the first-ever companies to offer eco-sensitive services, Enviro-Tech® Pest Services is passionate about protecting you, your family, your home or business, and the environment. We are constantly researching and finding newer and better ways to eliminate pest problems using the lowest-risk solutions. From minimizing our use of pesticides to using naturally derived products to driving hybrid and electric service vehicles, our team is committed to keeping your family safe, preserving the environment, and building a better tomorrow for future generations. Additionally, each of our Martinsburg pest control technicians is fully trained in Integrated Pest Management (IPM) solutions.
Don't just settle for any team. Choose the company that completes every service with your safety and well-being in mind.
Call (800) 836-3089 to schedule pest control in Martinsburg, West Virginia.
Suggested Reading: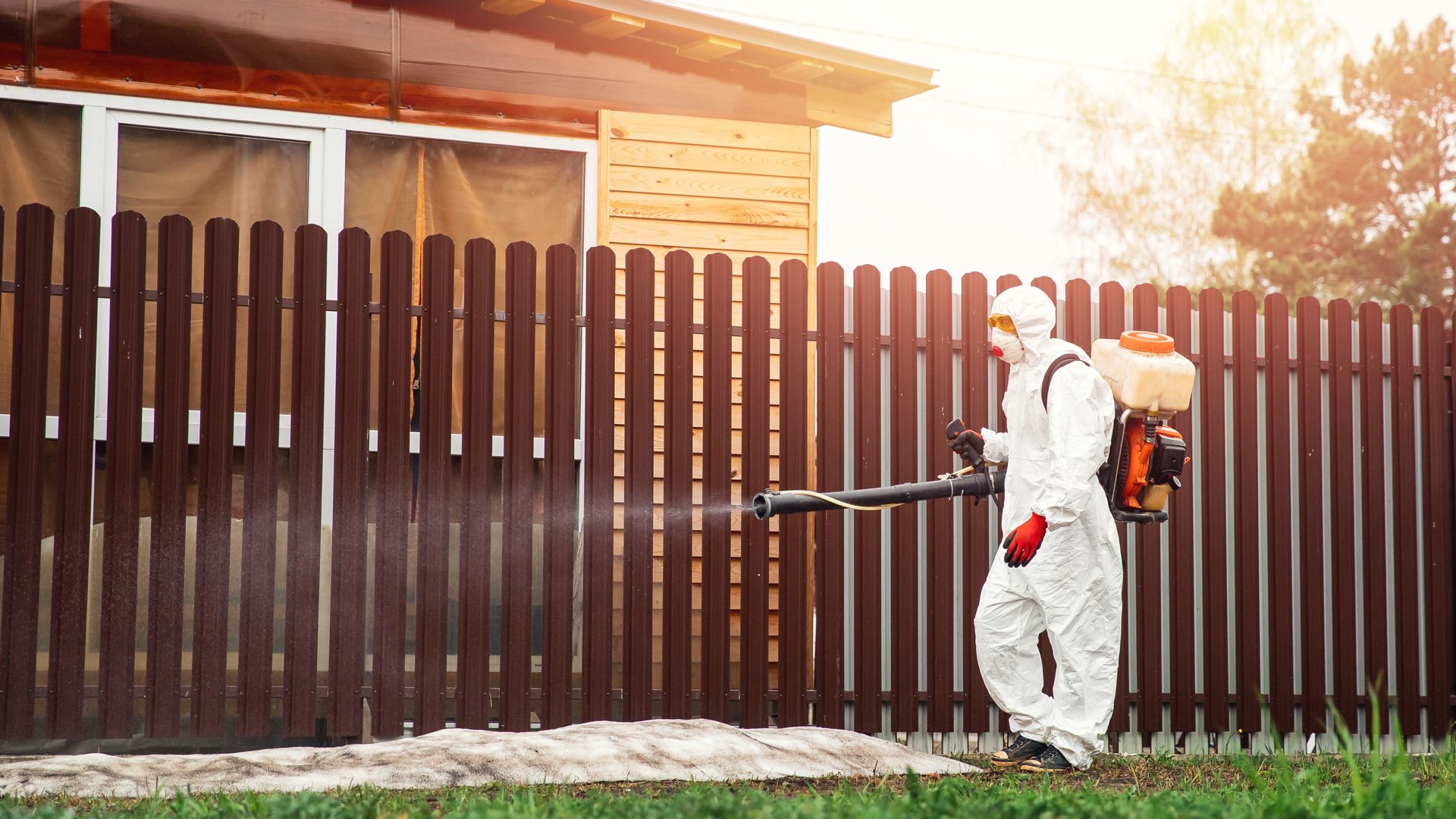 Enviro-Care Progam

Vector Guard Program

Our Enviro-Tech® Guarantee

Own an Enviro-Tech® Franchise